White Roses, Red Project No. 1 (detail)
Oil on panel
10 in × 12 in
Private collection
Color Theory
Graydon Parrish offers a range of color theory instruction and consultation. He has taught extended workshops at various private and public institutions as well as lecturing on related topics at the New Britain Museum of American Art and the Blanton Museum of Art. His workshops are attended by diverse groups: professional artists, movie industry techies, art historians, accomplished actors, fashion insiders and seasoned art collectors. All are enthralled by the possibility of learning a reliable system for mixing and applying color. Currently, he offers one to two week studio classes as well as weekend color symposia exclusively for charitable causes. Please contact the artist of more information.
Graydon introduces students to Albert Henry Munsell's concepts
Article published at artistsnetwork.com
Parrish, a realist painter in the classical tradition, has for many years resolutely researched the color theories of painter Albert Henry Munsell (1858–1918), the creator of a color system based on rigorous studies of how we perceive color. Now in the forefront of adapting Munsell's scientific concepts for use in painting, Parrish offers an annual workshop on the topic at the Grand Central Academy of Art in New York City. Last summer Parrish introduced 15 eager participants to the practical use of this unique, numeric system for accurately describing every color that exists.
Munsell's color theory is complicated, heady stuff, to say the least, but after three weeks of intensive study under Parrish's guidance, each student had completed a complex series of color-mixing and painting exercises and came away with an arsenal of workable solutions for identifying color by its dimensions of value, hue and chroma.
Parrish set the tone on the first day by announcing that the workshop would be a collaboration: "We, as a class, represent a variety of levels and artistic experiences," he explained, "so I would like to treat the next three weeks as a lab and encourage everyone to work at his own pace—but also to share with the class any new ideas uncovered as we progress." With that in mind, he met privately with each student to determine his or her skill set, tailor a personal curriculum and designate homogeneous groups—ensuring that each artist would be adequately challenged.
Munsell and the Color of Flesh
Article published at Munsell.com
Many artists find the colors of flesh elusive. After all, most can bring to mind ultramarine blue and cadmium yellow. Yet when it comes to flesh, many are left scratching their forehead. Flesh tones are hard to describe. Luckily, that area being scratched can be studied in Munsell terms using Munsell notation: hue, value and chroma. This makes the task of identifying then mixing the color much easier.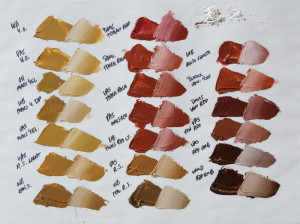 First, we must consider the average local color of flesh. Think of the local color as the area unaltered by shadow, halftone, highlight or reflected light. The local color is an area in the general light… the color that can be matched directly by paint. To go back to the forehead, imagine a spot of paint placed directly on it that matches perfectly, and you will understand the local.
According to where you are from, your habits and occupation, this may seem to vary substantially. After all, we can tell each other apart and our coloring has something to do with this. However, after studying many foreheads, not to mention other parts of the face and body, you will likely see a pattern in the local color of humans. The fact is that most of us, the vast majority, range in color from 5R to 10 YR, values 2 to 7, and chromas 2 to 6. To make it even easier, our average local complexion, the areas not influenced by hair, tans or ruddiness, ranges in hue between 2.5YR to 7.5YR , chromas 2 to 4. Some say everyone averages 5YR, chroma 3.
What does this mean? Well, the most refreshing thing is that we are not as different as we assume. Secondly, this makes painting portraits much easier if we simply start within the gamut of flesh colors.